Continental Fan is celebrating its 35th year in business!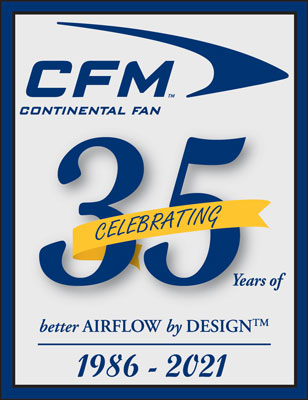 Founded in 1986, Continental Fan has grown to become one of North America's most unique fan companies. From modest beginnings, Continental Fan today has facilities in Mississauga, ON, Dayton, OH and Buffalo, NY.
Continental Fan's products can now be found in wide-ranging applications around the world, from simple exhaust ventilation to the most demanding and complex cooling systems. Serving diverse markets such as Residential, Commercial, OEM and Industrial, Continental Fan has cultivated and earned its reputation as a problem solver for virtually any fan application.
Expert advice and 3D fan modeling provide engineering-based solutions for our many customers. For us, better AIRFLOW by DESIGNTM is not just a slogan – it's our commitment!
We thank you for making our first 35 years a success. We look forward to serving you in the future.