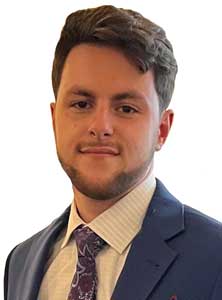 Mr. Jud Alexander, Executive Vice President of Continental Fan, is pleased to announce the appointment of Mr. Justin Laird to the position of Applications Engineer. Justin brings with him a keen mind, sound technical knowledge and a genuine desire to deliver Continental Fan's superior products to its customers. His positive attitude and commitment to serve our customers can only build on the company's stellar record of outstanding customer service.
Mr. Laird holds a BSc. degree in Mechanical Engineering from Western University in London, Ontario. He will be based at the company's Mississauga, Ontario location, and be responsible for application and technical support to its customers, and seeking new areas of business.
"As a young Engineering graduate, I am very excited to be working at Continental Fan and progressing my technical knowledge and career in hopes of eventually achieving a Professional Engineer designation. I hope to be able to help Continental Fan progress in the industry just as much or more than the company can help me develop my own skills and knowledge pertaining to the field of HVAC. I look forward to helping drive innovation in the industry through collaboration and analytical thinking," says Mr. Laird.
Continental Fan has been manufacturing and distributing quality ventilation products since 1986.
Our goals are simple……to provide superior equipment, dependable service, competitive pricing, and a knowledgeable staff to satisfy our customers' needs.